What is Dehydrated Food?
How to describ dehydrated food: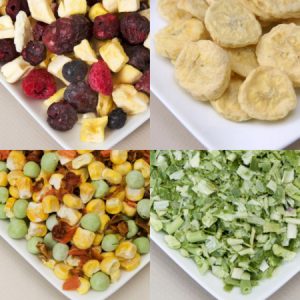 ● It's the trend for instant food, but process with only air dryer or freeze dryer, 100% natural with no preservitive no additive. Like ingredients for instant noodles or soup. If you ask about how could it be so long a shelf time (12 month normally), it's the moisture we've removed(Max 8% left). Fast and convinient.
● It's vegetarian and Kosher (for our products), only dehydrate fruits or vegetables, which are absolutly in your everyday meals.
● It's for healthy food and healthy life, they keep the full nutrition and can make nutrition exotic or international, with low cost.
● It's a good source for food emergency. Somewhere in the world are not safe or rich, people can't even eat. but dried food are easy to stock and don't need condition to fresh-care, just put them in the cool and dry places, with package not being exposed.
● It's needed for factories to reprocess, or snack making, especially for freeze dried fruits, they are popular material food for kids because of their natural and no additive. Having great flavor and safe to eat.
● All in all, please believe dehydrated vegetable and fruits are great ingredients for food, for trading, and for life.
We are Zhengzhou Donsen Foods Co., Ltd in China, with products of dehydrated vegetables and fruits. Food ingredients from us are provided for the suppliers of Nestle and Unilever in Europe.